Sexual Health Quarters offers an accessible and inclusive service. Anyone with a cervix is welcome to make a cervical screening appointment with our experienced clinicians. We can offer supported appointments for individuals who may need extra assistance. 
As of July 2022, people with a cervix have greater choice in screening options for the Cervical Screening Test (CST). This means that if you have a cervix, are 25-74 years of age and have ever been sexually active, you will have two options for your cervical screening:   
Your clinician collecting the sample for you  

 

You collect the sample on your own (scroll down for more info)

 
What is the cervix?  
The cervix is where the vagina meets the uterus, it has a small hole that opens to the uterus. If someone is pregnant, the cervix helps to keep bacteria out of the womb. When a birth occurs, the baby passes through the cervix.   
What is cervical screening?
Cervical screening changed in Australia in late 2017. The Pap smear was replaced with a new, more accurate Cervical Screening Test. The new test looks for the cause of most cervical cancer, human papilloma virus (HPV). If you've had a Pap smear before, the way the test is done will look and feel the same. The procedure might be a bit uncomfortable, but it shouldn't be painful. 
Who should have a Cervical Screening Test?
If you are a person with a cervix aged 25-74 years, and have ever been sexually active, you should have a Cervical Screening Test every five years until the age of 74. Your first test is due at 25 years of age. 
This includes those who:  
Feel well and have no symptoms 

Are pregnant 

Have been vaccinated against HPV 

Are going through menopause 

No longer have periods 

Have not had sexual contact in a long time 

Have only ever had one sexual partner 

Have an intellectual and/or physical disability 

Only have sex with women 

Are transgender, gender diverse or non-binary and have a cervix
Why Test?
Regular screening can help keep your cervix healthy.   
The purpose of CSTs is to look for the Human Papilloma Virus (HPV). HPV can cause cell changes on the cervix, which may lead to cancer in the future. These tests are done every five years, starting when you're 25, and ending once you're 74.   
Over 99% of cervical cancer is caused by HPV. It's a common sexually transmissible infection (STI) with up to 90% of people having at least one genital type of HPV at some point in their life. Most HPV infections go away on their own and don't cause problems. There are many different strains of HPV, but some of them (like strains 16 and 18) can cause cervical cancer.   
Some ways to reduce the risk of getting HPV include having the HPV vaccine and using condoms and dams during sex. However, because HPV is transmitted through genital skin contact (and not just sex) they don't provide 100% protection against HPV.   
This means that testing is the best way to prevent cervical cancer caused by HPV.  
The HPV vaccine does not protect against all types of HPV that can cause cervical cancer, so it is important to continue regular screening even after having the HPV vaccine. 
Self-Collected Cervical Screening 
Collecting your own sample and having your healthcare provider collect your sample are both accurate, safe, and effective ways to screen for cervical cancer. Some people may prefer the privacy and ease of collecting the sample themselves – you get to decide if this is what you'd like to do.  
What's the difference between clinician collected CST and self-collected?  
Clinician collected sample 
A speculum is used to gently open the vagina so the cervix can be seen well, and a sample of cells from the cervix is taken using a small brush which tests for HPV. While the sample is taken, the clinician will also check for any other issues that might require follow up. If the sample shows that HPV is present, the laboratory will use the same sample to test for any cervical cell changes.   
Cervical screening may feel uncomfortable, but it shouldn't be painful. You are allowed to tell the clinician if you are in pain, as you have control of the situation. Some people may find a cervical screen embarrassing or feel uncomfortable with the idea. Don't be afraid to talk to your doctor about this, as there are things they can do to make you more comfortable, or you can try self-collection:  
Self-collected sample 
The clinician will give you instructions and a specially designed swab so you can take the sample yourself in a private area at the clinic.  
Here is how it is done: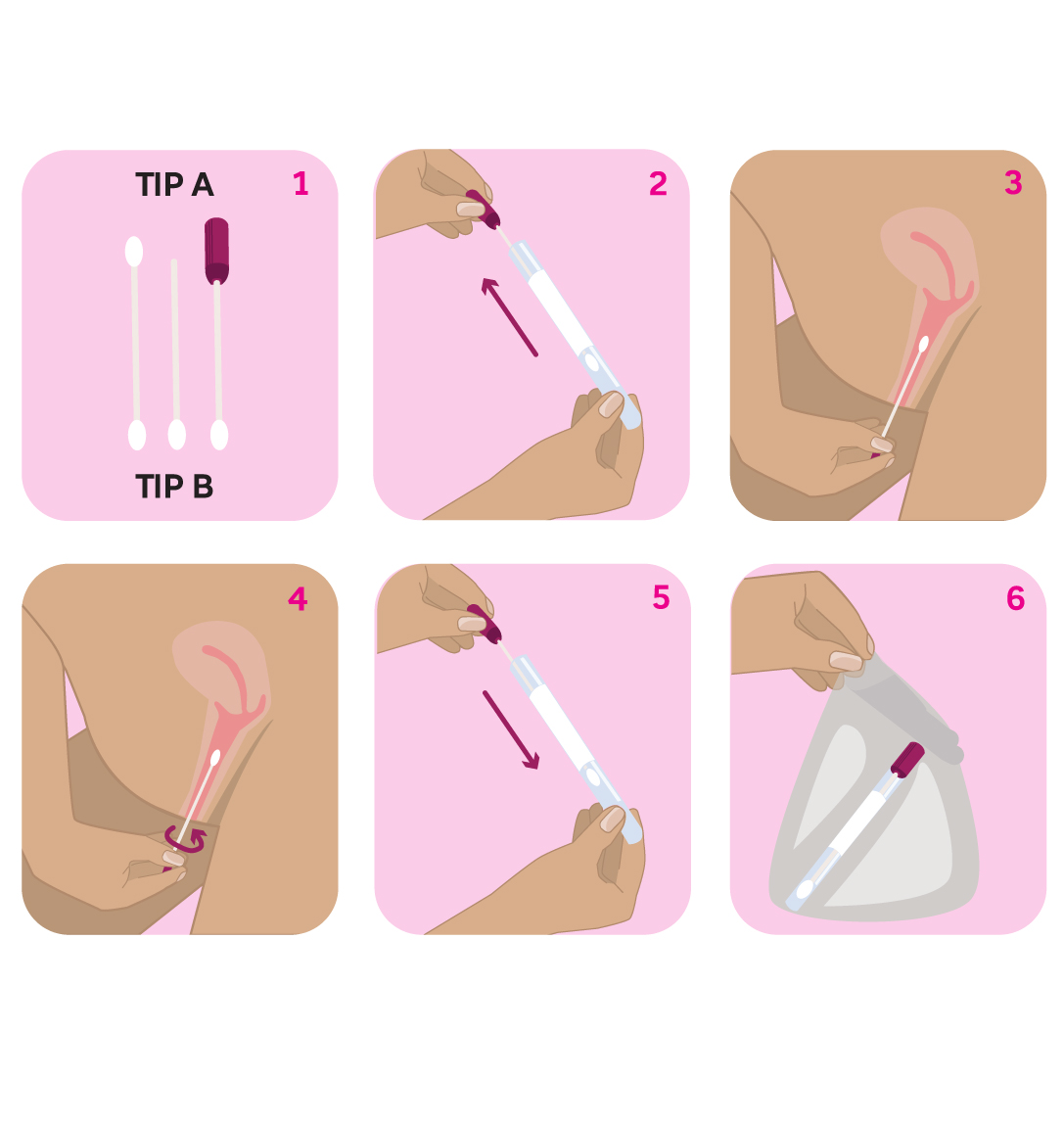 Self-collection tests for HPV only, as the sample does not contain cervical cells required for further testing. If HPV is found, you will need to complete a cervical screening examination with a clinician.  
For more information about cervical screening go to http://www.healthywa.wa.gov.au/cervicalscreening