Further information
Found in
Jean Hailes Women's Health Week was held last week –5th September to 11th September 2022 – to raise awareness and celebrate women's health. It highlights the importance of prioritising women's health and wellbeing
The 1st national Women's Health week was held in 2013, after Jean Hailes for Women's Health recognised that there was no event dedicated to Women's Health in Australia. Now in its 10th year, Women's Health Week celebrate Australian women from all walks of life. Last year over 128 000 women participated in different events over the week.
Each day focused on a different women's health issue:
Monday – Check me out: Focusing on important health checks
Tuesday – Menopause matters
Wednesday – Pelvic Matters
Thursday – Mind Health
Friday – Move & Improve
To celebrate Women's Health Week, SHQ Disability Team held a morning tea for our clients. Clients enjoyed some tasty sweet and savoury treats as well as hot and cold drinks.
Each client was given a goodie bag filled with useful health information.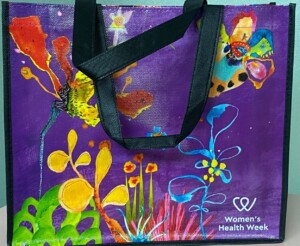 Everyone enjoyed themselves so much we decided to make this an annual event.