The Association is an incorporated body under the overall management of a Non-Executive Board, The prime duty of the Board is to act as trustee for the membership of the Association and to be accountable to the membership for the overall operation of the Association.
Board members act in an advisory capacity, and as a source of visible influence and knowledge. They actively promote the services the Association provides, and provide support to the Chief Executive Officer in negotiations with the appropriate authorities, corporate bodies and individuals to ensure sufficient funds and resources are acquired to maintain adequate levels of service.
The Board is responsible to review and ratify operations, plans, policies and budgets which are submitted by the Chief Executive Officer on behalf of the organisation, and to monitor these activities, plans and budgets. It is the role of the Board, through the Chief Executive Officer, to ensure that all constitutional, legal and ethical requirements associated with the delivery of services by SHQ are complied with.
If you are interested in joining the board, please complete a Board Member Nomination form. Potential board members need to be members of SHQ: please see our membership page.
Meet our current Board members
Rick Brooks
Chairperson
"Its important we serve without prejudice, to ensure a balanced and positive service to our community."
At SHQ we've always had a holistic approach and broad outcome focus.  We paint outside the traditional lines of simply delivering contractually funded results, to ensure that our outcomes are focused on our community, who are at the heart of every decision we make.
As an organisation we tackle topics and provide services that some consider taboo. As the peak sexual health body of Western Australia we must remain brave and committed to ensure that we can provide a voice to those unwilling or unable. We're conscious too that due to our holistic services and open approach, other organisations look to us for education and guidance, to enable them to serve our community as well.
As the chairperson of the Board it's important that our noble approach, of placing the community at the centre of every decision, not only continues, but is balanced with commercial parameters that will ensure a surplus, and position us for growth. We have a sound platform and clear remit that will enable SHQ to grow the breadth and depth of services and offer greater advocacy and awareness, so more people understand our value and have an appreciation of the role we play in the community.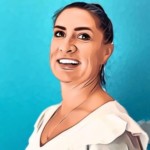 Maria Quaggan
Vice Chairperson
"Being part of the organisation's future means I am making a real difference."
SHQ is a well-established and respected organisation in Western Australia, providing community members access to services relating to sensitive and private health matters in a safe environment, free from prejudice or judgement.  This inclusive approach provides a freedom of choice and empowerment regarding people's sexual health and wellbeing.
I find volunteering my time and experience as a member of the SHQ Board to be enormously rewarding. Working holistically, we provide strategy and oversight that will guide the organisation and ensure the continual delivery of vital services.  Utilising my strengths in business acumen, strategy, and risk I'm able to support strong governance, which is the cornerstone to success for any organisation.
Susan Theseira
Vice Chairperson
"You can't separate a person from their sexual health."
Sexual health is relevant to every person and it can have an impact on your life that people don't realise. Culturally it is getting better with people talking about it, but everyone could learn more and benefit from education and access to support. I find it sad to think of a world without sexual health organisations as a lot of harm and hurt can be done without people being educated. That's why people need a beacon – SHQ is this guiding light and is at the forefront of changing hearts and minds about the importance of sexual health.
I love that SHQ is so community minded and is concerned about consumer engagement and ensuring access to a service that meets and goes beyond their expectations. I recommend the service to anyone.
As a previous peer educator and working in the youth space, I am in-tune and up to date with issues that young people are facing. I'm therefore able to offer this perspective, of one of our priority groups, to the Board.  Issues relating to sexual health, and well-being are occurring earlier in people's lives through the prevalence of technology. This makes me more determined that sexual health, body safety, respect, and consent education are provided to young people as early as is practical.
Veronica Walshe
Board Member
"Working in the field of sexual and reproductive health is something I love doing."
I trained at SHQ (then the Family Planning Association of WA) back in the 90s and have thought highly of them ever since. Their training opened my world to sexual and reproductive health education, which empowers and inspires me still today.
I believe SHQ provides the best sexual health services that are inclusive of all genders and diversities. This is provided in a safe, caring, friendly and supportive environment by people who are incredibly passionate about ensuring the quality of service is the best it possibly can be. To be the best there is a lot of behind the scenes work that needs to happen that I know not everyone appreciates. However it is this commitment that SHQ invests which is why they remain the peak body.
For me serving on the Board is a two-way street. I get as much from being on the Board as hopefully they get from me being there. I'm learning from people outside of the industry whilst offering my own knowledge and experience. It's this open exchange of different perspectives that ensures SHQ remains on the right path.
Meagan Roberts
Board member
"I've trademarked the 'sneaky veg' approach to sexual health education!"
I've had an interest in sexual health and wellbeing ever since I realised the early education I'd missed by attending an all-girls Catholic school. From my time at the Department of Health managing the youth portfolio, to my experience through the Aboriginal Health Council of Western Australia (AHCWA) as a peer educator for rural and remote Aboriginal communities – I've learned the importance of integrating different aspects of home, school and religious beliefs into sexual health education.
I believe that SHQ does this well and has been the hub of all things sexual health for many years. As a member of the Board I offer insight into several of our priority groups which is beneficial to ensure that as an organisation we stay current and relevant. I believe it's important that as a Board we're engaged throughout the organisation, which is made easy as everyone is so friendly and committed.
My experience has taught me that due to the contentious nature of sexual health and the need to push people's pre-existing boundaries, its often necessary to wrap sexual health education into a wider curriculum of general health – or as I've trademarked it, the 'sneaky veg'.
Hayden Thomas
Board Member
"I want to support the WA community improve their sexual health in a lower carbon future."
My role in the energy industry gives me the opportunity to support Western Australia to overcome the practical challenges of the transition to a sustainable, lower carbon future. I also want to support the WA community in choosing SHQ to improve their sexual health and wellbeing.
The team at SHQ are specialists in sexual and reproductive health, and deliver clinical and counselling services in an open, non-judgemental way to a diverse client base, which includes providing services to disadvantaged groups within our community.
As a member of the Board I want to offer fresh perspectives and ensure commercially sound decisions are made that will ensure we build on our evidence-based learning and deliver fundamental clinical and counselling services to a wider community for the benefit of all Western Australians.
Luke Austin
Board Member
"My passion, for Aboriginal health across our communities, brings tangible meaning to everything I do."
I'm a proud Noongar man and have been actively involved in the health sector, specifically Aboriginal health for many years. The health and wellbeing of communities, particularly those in rural and remote settings is a passion of mine that gives the role I do even more meaning.
As a Clinical Practice Support Officer with AHCWA I'm part of a team providing sexual health training to Aboriginal peer educators. Together, and in partnership with SHQ I believe that we can educate and support our WA community to achieve better sexual health and wellbeing.
Jye Walker
Staff Representative (Ex-officio)
"Our work is colourful, like our office and our people!"
I'm a proud Aboriginal man and through life I've been exposed to homophobic, cultural and racial bias, which has sparked my desire to educate and broaden people's perspective.
For me, SHQ has always been a cool brand with prestige in the sector, especially through our Mooditj program. As an organisation we're courageous in our approach in targeting all aspects of sexual health and providing a voice on topics like LGBTI+ and equality. We all appreciate the vital role that nurses, and teachers play in our community and as such I consider them priority audiences that would benefit through education on such topics. I believe diversity awareness and sexual health education should be available to everyone.
Being part of the Board will undoubtedly allow me to grow as an individual and I can also provide growth to others by offering a youthful and Aboriginal insight and appreciation. I understand the commercial importance of our growth, that will allow us to provide our services to more rural and regional communities.
Note: Ex-officio – Non-voting member of the board, chosen by SHQ staff.